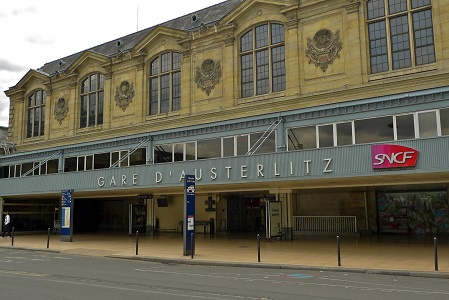 taxi-station-to-Austerlitz
TAXI NEED FOR AUSTERLITZ RAILWAY STATION?
We are at your disposal 24 hours a day
Taxis at Gare d'Austerlitz specialize in Parisian train
stations Three ranges of Austerlitz taxi:
-Taxi Austerlitz Sedans
-Taxi Austerlitz MPVs
-Taxi Austerlitz Shuttles
Make an estimate of your transfer by taxi to Gare d'austerlitz with our calculator, book and pay online

Why choose Taxi Austerlitz?

online booking
Click on booking online taxi Austerlitz and instantly receive our rates. As soon as you have made the reservation you will receive your Austerlitz Train Station taxi booking confirmation by email and SMS. It's simple and it works

Experienced Drivers
Taxis at Gare d'Austerlitz are specialized and know the Austerlitz train station perfectly. Austerlitz taxis will take you directly to the station entrance along the less crowded path, saving you time.

Disponibles 24H/24

Gare d'Austerlitz taxis are available 24 hours a day, 7 days a week

Call center
In case of departure without reservation, do not hesitate to contact us by phone. By contacting Taxis Austerlitz, we will send you a taxi located near you.
Call Austerlitz Train Station Taxi at: (+33) 1.84.17.24.
Your Taxi Austerlitz will accompany you and will get you closer to facilitate access to your dock.
The Austerlitz station is one of the six major Parisian stations. Located in the 13th arrondissement of Paris, it is frequently used by travelers to Toulouse, Bordeaux or Limoges. The renovation of the Austerlitz station began in 2011 and should be completed by the year 2020, which should increase the annual number of passengers.
We also perform other types of transfer. Standard or transfers to / from other Paris train stations and airports. We are recommended for these kinds of benefits. We will put at your disposal one of our comfortable vehicles on board, you will have bottles of water, small confectioneries, a charger for your smartphone and the WIFI connection. We have equipped our vehicles to ensure maximum comfort for our customers. Thus, they will never be bored even if the journey is more or less long.
Taxi drivers Austerlitz station know Paris perfectly, and will accompany you throughout the capital and surrounding cities, the time you rest your journey by TGV. They look neat, they are courteous and helpful. For the safety and satisfaction of our customers, our company ensures that our drivers can regularly benefit from training for capacity building.
The prices we offer, defy all competition. Indeed, we allow you to benefit from a luxurious service at discount rates. This price, you will take it in knowledge from your reservation. No additional charges will be charged regardless of traffic status.
Formerly known as Gare d'Orléans, the taxi drivers at Austerlitz Station quickly got used to this new name associated with the place from which most of their taxi rides originate.